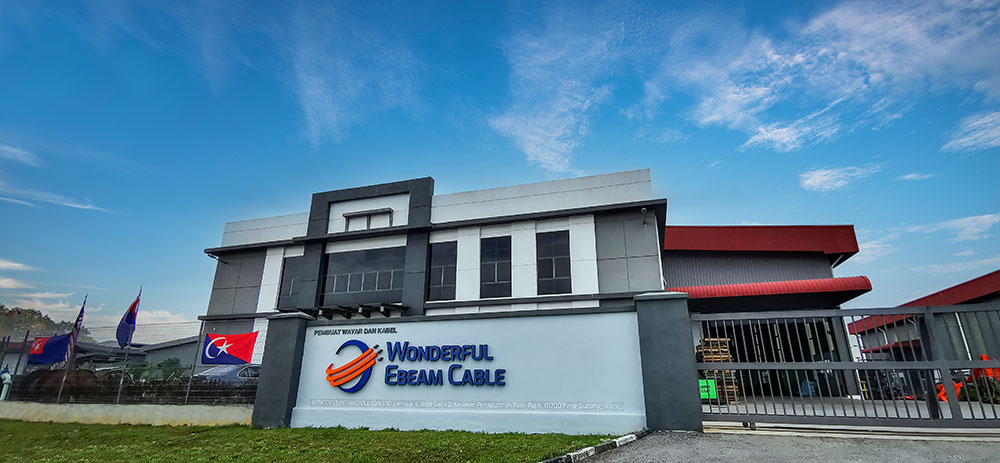 Wonderful Ebeam Cable Sdn Bhd was created from the composition of dreams visualized by a group of individuals who saw the potential in their own immense experience in cable and wire manufacturing as well as their understanding in marketing. Wonderful Ebeam Cable Sdn Bhd was materialized from a shared vision into a strong steadfast empire because these individuals wanted to take advantage over the prospective anticipated demands of electronic wires, automobile cables and flexible power cords in the electronic industries, the newly emerged National Car and Motorcycle industries and the household appliance manufacture, and Original Equipment Manufacturer (OEM) factories.
The commercial evolution of WEC started its small scale production in late 1989, but has never looked back since its demands increased over the years. Throughout the years WEC has been expanding in terms of capital, factory area, production capacity, cable & wire range as well as sales turnover.
1990 marked a historical event when a Joint-Venture agreement and Technical Co-operation was signed between Wonderful Ebeam Cable Sdn Bhd and Showa Electric Wire & Cable, a leading cable manufacturer from Japan. This Joint Venture has worked in favor of Wonderful Ebeam Cable Sdn Bhd in many factors. It has managed to intensify the manufacturing techniques, quality control and has assisted in widening Wonderful Ebeam Cable Sdn Bhd products range.
Wonderful Ebeam Cable Sdn Bhd took various prospects generated by Malaysia's tremendous economic growth and move to industrialize the nation by year 2020 when it constructed another plant in 1992 to manufacture a full range of Low Voltage PVC and XLPE Insulated Power Cables to cater for the demands made possible by the variety of infrastructure, industrial and property developments in addition to rural electrification programmes.
Year 1995 saw the transformation of Wonderful Ebeam Cable Sdn Bhd as it became a public company and in August 1996 WEC obtained approval from relevant authorities for the company to be listed on Bursa Saham Malaysia.
| | Tebrau 1 | Tebrau IV | Pasir Gudang | Gunung Kabel |
| --- | --- | --- | --- | --- |
| Land area | 12,140.64 m² | 10,671.56 m² | 11,060.05 m² | 44,220.87 m² |
| Building area | 7,380.86 m² | 6,075.39 m² | 6,466.79 m² | 22,110.44 m² |